Main content starts here, tab to start navigating
Menu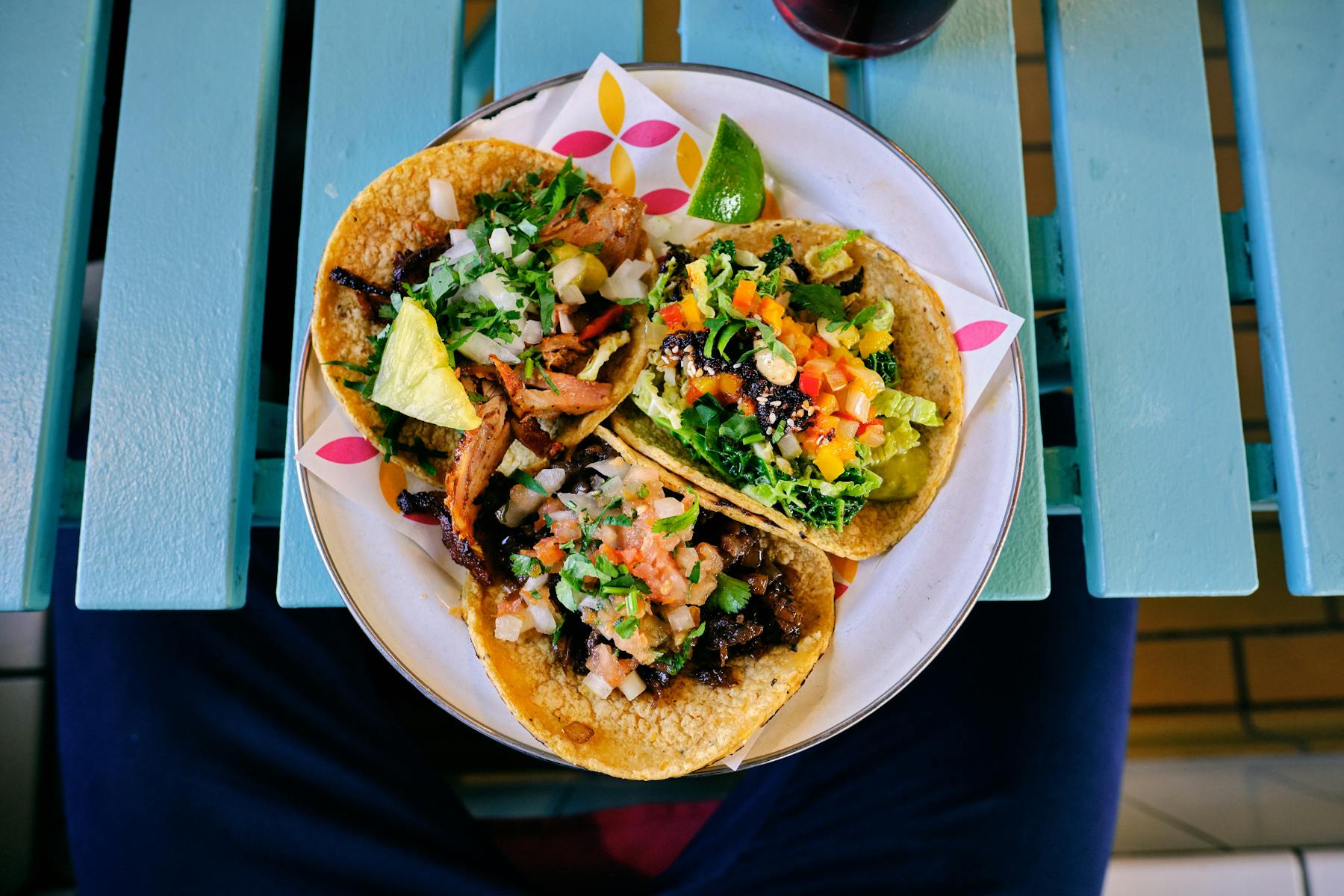 DTF at home? Down to fiesta at home, here's everything you need to host your next fiesta!
Taco Party

Tacos for everyone, an assortment of yummy tacos ready to eat. This package comes with 5 chicken tinga tacos, 5 carne asada tacos and 5 carnitas tacos. It also comes with chips, salsa and our homemade hot sauces.

$55

Mucho Burrito

5 Pack of burritos, your choice of chicken, steak, carnitas or veggie. Served with chips and salsa (burritos are filled with rice, beans, onions, peppers, tomatoes, cilantro and crema)

$45

Fajita Fiesta

A build your own fajita bar with all toppings on the side (cheese, cream, lettuce, pico, rice and beans). Served with flour tortillas and comes with our homemade chips, salsa and white queso. Serves 4-5 people

$55 - $65
CLASSIC MARGARITAS MADE WITH TEQUILA BLANCO, LIME JUICE AND AGAVE.
Ready to enjoy, serve over ice!
16 Ounce Fresh Margarita

Equivalent to 2.5 margaritas! Ready to drink, just pour over ice.

$12

Make it Mango $1

Make it Strawberry $1

Half Gallon Fresh Margarita

Equivalent to 10 Margaritas! Ready to drink, just pour over ice.

$48

Make it Mango $5

Make it Strawberry $5
Chips + Salsa

homemade chips & salsa

$2

Chips & Queso

creamy white queso served with fresh chips

$5

Shrimp Ceviche

avocado, lime, onion, cilantro, tomato, jalapeño

$8

*Cripsy Flautas

rolled up and fried chicken taquitos

$8

Carne Asada Fries

french fries, queso, pico, jalapeño, cilantro, crema

$8
*Holy Guacamole

prepared fresh with the finest Mexican ingredients form just around the corner!

$7

Cantina Nachos

crisp chips, white queso, beans, guacamole, crema, pico, and chicken

$9

Street Corn

corn off the cobb, spicy mayo, queso fresco, chili powder

$4

Tortilla Soup

shredded chicken, rice, pico de gallo, avocado topped with tortilla strips

$5
*Carnitas

roasted pork, guacamole, onions, cilantro

Barbacoa

spicy shredded beef, onions, cilantro

Carne Asada

chargrilled steak, avocado crema, onions, cilantro

Al Pastor

guajillo pork, onion, cilantro, pineapple

Pollo Loco

grilled chicken, guacamole, onions, cilantro

Camaron

shrimp, cabbage, pico, pickled onion and chipotle aioli

*Tinga

roasted chipotle chicken, pico and cabbage (c)

Fish

fried fish, cabbage, pico, pickled onion and chipotle aioli

Holy Mole

shredded chicken, mole poblano and crema
Hongo

mushrooms, corn salsa, crispy onion

vegetarian

Frijoles

black beans, plantains, cilantro, crema

vegetarian

Fried Chicken

buffalo chicken, cabbage, cheese

Gringo

lettuce, cheese, tomato, cilantro and chicken or steak
Sides
Rice & Bean

$2

Plantains

$3

Salad

$4
Quesadillas
Cheese

cheese and refried beans

$7

vegetarian

Fajita

cheese, onions, peppers, and mushrooms

$8

vegetarian

Chicken

cheese and chicken

$9

Carne Asada

cheese and steak

$10
Tortas
Mexcian Sandwich
Milanesa

breaded chicken, chipotle crema, jalapeño, cheese & black beans!

$10

Steak

avocado, cheese, black beans, onions, jalapeños, and chipotle crema

$11
Burritos
Cantina Burritos

chicken or steak, onions, tomato, peppers, cilantro, crema, rice, beans

$8

Gordito Burrito Mojado

choice of filling, rice, black beans, onions, and peppers topped with ranchero sauce or cheese dip and guacamole

$11

*El Rey

grilled steak, shrimp, french fries, guacamole, pico, cheese, and chipotle aioli

$12
Cantina Combos
*El Chango

two enchiladas and a taco

$11

El Latin Lover

two enchiladas and two tacos

$13
*Super Chimichanga

super sized tortilla stuffed with ranchero chicken, beans, cheese then topped with queso and guac

$12

Carne Asada

skirt steak chargrilled to perfection served with a cheese quesadilla and a guacamole salad

$14

Chile Relleno

hand peeled and fire roasted poblano pepper stuffed with mixed mexican cheeses and topped with homemade salsa roja

$11

vegetarian

Cantina Fajitas

A luchador favorite. Sauteed onions and peppers served with guacamole, pico de gallo, sour cream, cheese, and warm flour tortillas

Veggie (V) $12

Chicken $13

Skirt Steak $14

Shrimp $15

Combo $16
*Enchiladas

authentic chicken enchiladas topped with queso fresco, crema, and onion

$11

Suiza, Mole or Traditonal

Tacos de el Jefe

three rolled up flour tortillas topped with creamy white queso and served with a guacamole salad

Chicken $12

Carnitas $12

Skirt Steak $13

Shrimp $14

*Urban Carnitas

braised pork pieces, guacamole salad, and fresh made corn tortillas

$12

Street Corner Tacos

a taste of our five most popular tacos...al pastor, carne asada, carnitas, fish and pollo asado

$14
*Cantina Bowl

brown rice, black beans, avocado, corn, tomato w/ chicken, carnitas or steak +2

$10

Veggie Chimi

plantains, black beans, guac, corn salsa, ranchero, crema and cheese

$10

vegetarian

Pollo a la Plancha

grilled chicken, salsa and fries

$12

Chilaquiles

tortilla chips simmered in salsa roja topped w/onions, crema, cheese and pulled chicken

$10
Tostada Salad

tortilla bowl, guacamole, tomato, cheese, beans, crema and grilled chicken

$10

Bbq Mexican Salad

bbq chicken, black beans, onion strings, tomatoes, avocado tossed in chipotle ranch

$11

Santo Salad

grilled chicken, avocado, cucumber, boiled egg, tomato, queso fresco

$11

Mexican Cesar

grilled chicken

$10
Lucha Treats
Flan

$3

Sopapillas

$4

Churros

$4

Fried Icecream

$6
Queso

$2.75

Guacamole

$3

Crema

$0.75

Corn Salsa

$2
Plantains

$3

House Salad

$6

Pico de Gallo

$1.50

Tortillas

$1
Taco Bar
Minimum of 10 People
Three Tacos per Person

$12 per person

Choose 1: Chicken, Carnitas, Steak, Veggie

* Served with Cilantro, Onion, Queso Fresco, Limes, Homemade Hot Sauce, Rice & Beans,

Flour or Corn Tortillas
Fajita Bar
Minimum of 10 People
Chicken Fajitas

$13 per person

Skirt Steak Fajitas

$14 per person

Shrimp Fajitas

$15 per person

Veggie Fajitas

$13 per person

*Served with Sauteed Onions and Peppers, Lettuce, Cheese, Sour Cream, Guacamole, Pico De Gallo, Homemade Hot Sauce, Rice & Beans, Flour or Corn Tortillas
Enchiladas
Traditional Chicken Enchiladas Topped with Sour Cream, Cheese and Served with Rice and Beans
Minimum of 10 People
Chicken Enchiladas

$80 per person
Taco Salad Bar
This Fun Set up Brings Individual Tortilla Bowls so You Can Build Your Salad Just the Way You Want It
*Served with Greens, Pico De Gallo, Sour Cream, Cheese, Guacamole, Beans
Minimum of 10 People
Chicken

$12 per person

Skirt Steak

$13 per person
Sides
Options serve 10 people
Guacamole

$25

Queso

$20

Salsa

$10

Mini Cheese Quesadillas

$40
Lucha Treats
Option serves 10 People
Churros

$30

Flan

$30

Sopapillas

$30
Drinks
Mexican Soda

2.50/Bottle

Jarritos

2.50/Bottle
Set-Up Charge
Plates, Silverware, Napkins...$5
Wire Chafers + Heating...$10 Per Set
Delivery $20
*24 Hour notice requested for all orders, please call or email to check availability
Margaritas
La Flaca

Espolon, Organic Agave, Fresh Lime

$10

Pepino

Espolon, Cucumber, Lime

$12

Picoso

Espolon, Lime, Jalapeño

$10

Fresa

Espolon, Grand Marnier, Strawberry

$11

Humo

Illegal Mezcal, Lime, Agave, Orange

$9

El Hefe

Don Julio 1942, Grand Marnier, Lime

$25
Frozen Margaritas
El Clasico Frozen Marg

Original $8

Grande $14
Weekend Brunch
Bottomless Margaritas

$17
Taco Tuesday
Tacos

$2

Cervezas

$3

Margs

$5
Happy Hour Specials
Beer

$3

Margs

$5

Nachos

$7
Tequila Thursdays
Tequila Shot

$5

Skinny Margaritas

$7
Cervezas
Bottled

Corona, Corona Light, Dos XX, Sol, Tecate, Bud Light

Draft

Pacifico, Modelo Especial, Negra Modelo, Corona Light